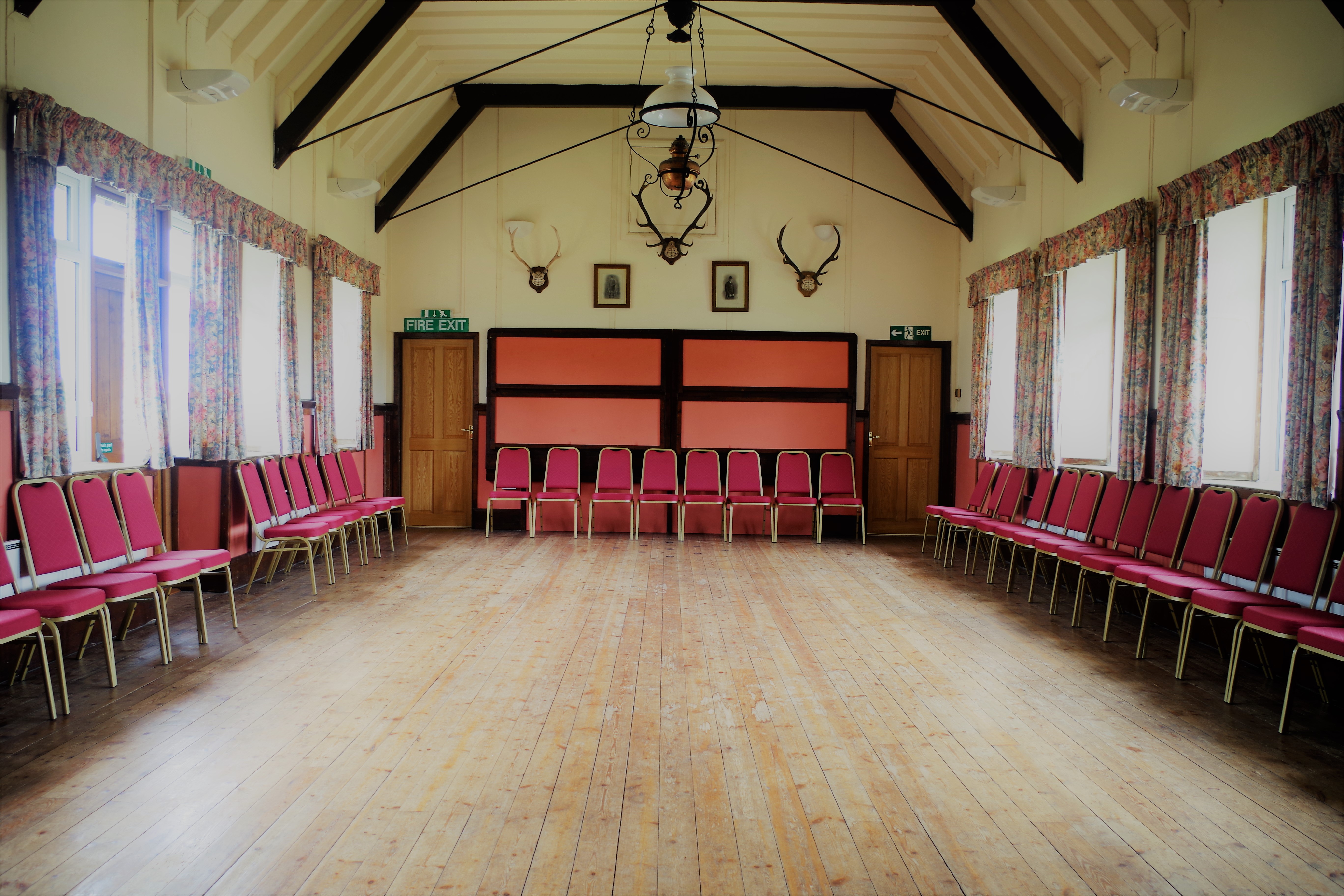 Hawkridge is a very small community situated high on Exmoor and with a total population of just 53. Although small in number there is a strong community spirit within the parish and this extends to the involvement of much wider support from neighbouring parishes. The Village Hall is central to the community providing a focal point for many local events. It is an impressive facility for a small community and continues to be widely appreciated by many users.


The Hall was built in 1938 by a local benefactor and presented to the village community. It is an imposing building, solidly constructed of stone elevations with a slate roof and it has served the community well for nearly 80 years. Regular maintenance and improvement work has been carried out including provision of a modern heating system, replacement windows and a new roof. The entrance area and cloakrooms have been completely modernised, plus improvements to the kitchen area. There is level entry into the Hall to assist ease of access for elderly or disabled persons.


The Village Hall is a registered Charity and is run by a Management Committee in accordance with Charity Commission Rules. The Management Committee endeavours to ensure that the Hall is welcoming, safe and comfortable to use, whilst retaining its many original features.
The Village Hall is also registered with the Somerset Community Council.
Following their inspection in 2017 the Hall was awarded the nationally recognised standards of :
Hallmark One - for Charity Administration and Management
Hallmark Two – for Compliance with Health, Safety, Security and License requirements

The Facilities
Main Hall is 12.1m x 6.6m, with banqueting chairs along 2 sides and a pull down stage at one end. The hall has flexible lighting, 8 flood lights illuminate the hall's oak beamed ceiling and there are 2 wall lights, at each end providing softer lighting.
Pull Down Stage is located at the end of the main hall. When down, the stage measures 1.50m x 3.20m, perfect for a house band or disco.
The Kitchen, located at the end of the main hall, measures 2.7m x 6.0m. Doors are at each end of the kitchen area leading out to the main hall. There are plentyof work surfaces and the layout enables serving of people at one end with preparatory work at the other end.
Equipment includes:
100+ cups, saucers and side plates
100+ full sets of cutlery and dinner plates
Small electric hostess trolley
Electric immersion heater
1 plumbed, hot water boiler
2 sinks with hot and cold water
Separate hand washing sink
Electric kettle
· Plenty of tea towels and tables clothes
Cloakrooms, off the lobby entrance include a purpose built facility for the disabled.
Store Room, off the lobby entrance contains;
12 folding metal leg tables (182cm x 68.5cm) for hall use only
40 plastic folding chairs, for hall use only
Cupboard for cleaning equipment


Car Parking.
The Hall has a car park area with a wide entrance and space for approx. 20 vehicles. There is further roadside parking around the village. For larger events it is sometimes possible to make additional parking space available, the Booking Secretary can advise further if required.
Wooden Tables and Chairs available for hire are stored next to the hall, with easy access for loading.
Currently available for hire are:
50 fold up wooden chairs
18 wooden folding tables (183cm x 67.5cm)
6 metal leg, folding tables (179cm x 68cm)
Hall Hiring Charges: -
Wedding Reception/Party £100
Dance, Party or Disco £30


Whist Drive £20


Morning Let £20


Afternoon Let £20


Evening Let £20


Evening Let (excluding kitchen) £15


VillageMeeting £5


Parish Council Meeting £15


Election Polling Station £90


Camping in Hall Per Night
Summer (Apr-Sep) £75
Winter (Oct- Mar) £100


Wooden Tables - Each £2


Wooden Chairs - Each £0.50


China per 100 or Part £5


Cutlery per 100 or Part £5
Layout of the Hall:
Contact information
Chairman: Richard Lock 01398 341520
Secretary/Booking Enquiries: Kathy Lock 01398 341205
Treasurer: Gwen Bawden 01643 831320