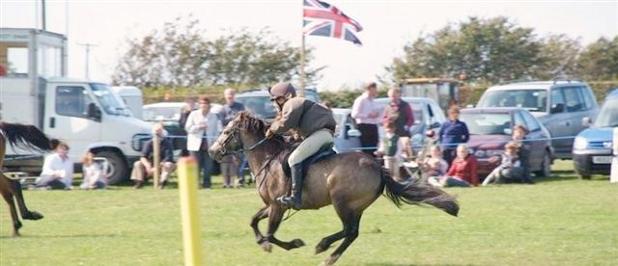 August Bank Holiday Monday 28th 2023
Commencing at 10.30am with Showing Classes, including Leading Rein & Hunter Class.
Mountain & Moorland and Exmoor Pony classes – ridden, in-hand & Veteran Class,
Show Jumping commencing at 11am – including Nursery Stakes, Novice Class & Open Classes.
Antler Competition & Parade of the Taw Vale Beagles
Gymkhana 2.30pm Family Dog Show at 2pm.
Children's Mounted Fancy Dress, Foot Races, Side Shows, Stalls, Ice cream & Refreshments.
Admission by Donation
Proceeds to St Giles Church, Village Hall and Other Charities
FOR 2023 SCHEDULE click here
Enjoy all the usual showing, jumping and gymkhana classes, along with Mountain and Moorland pony classes. Chuckle at the ever-popular mounted fancy dress, with toddlers on tiny ponies rendered speechless or forthcoming when invited to speak to the crowd through a microphone by the cheery announcer. The stalls are all local and home-made, as is the produce on sale and the refreshments, and that includes the burgers. Plants bought here will probably survive anywhere in the UK.
The Dog Show is a well-attended family event for every type of dog, ending with the extraordinary and hilarious dog race up in a quiet corner of the field.
Because the ground is so high, the views are spectacular. Turn in any direction to stand and stare. Some regular visitors and participants come with their home comforts just for the sheer pleasure of sitting for a whole day in what is normally a sheep field.
What creates the charm of this show? Perhaps it lies in the way it comes together, as if by magic, when most of the village turns out to put up tents, rope off arenas and exclaim about the weather. One meeting in the Spring is all it takes and that is also a chance to gossip. With only 11 households in the immediate village, it has done well to survive for over 70 years.
In 2009 the Revel was short-listed among the best small shows in the country and nothing has changed much – in 75 years, actually.
Show Secretary - Veronica Lock Please contact for show related enquires; veronica.lock@btinternet.com or 01398 341520
Location of Showground.